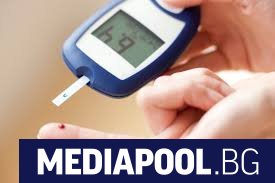 To improve access to screening, diagnosis and treatment of diabetes and its complications, the patient organizations were announced on the eve of World AIDS Day, November 14.
According to official data from the Diabetes Registry, the number of people with diabetes in Bulgaria exceeds 460 thousand and according to Atlas World Diabetes, the real number of diabetics in Bulgaria is 520 thousand. There are also a large number of undiagnosed patients, so they are not treated and do not control their disease.
Diabetes Association Associations, Insulin Pumps Association, Type 2 Diabetes Association and Patient Organizations "together with you" signals that there is no comprehensive program in Bulgaria to solve the problems associated with the absence of annual survey programs, covering all risk groups.
The lack of experts in small settlements and hard-to-reach areas, and the lack of adequate resources to prevent them, are also a problem in treating patients with diabetes. This is the cause of premature treatment and the occurrence of diabetic complications. This contributes to additional budgetary burden and the need to implement costly treatments for the treatment of diabetes and its complications, "the Hula organizations said.
Access to quality medical care in certain areas of the country is overwhelming and there are no training programs for all patients diagnosed to improve responsiveness to blood glucose control and control.
Only 73,000 diabetics receive bandwidth for meter readers returning under NHIF. Any other control is weak or completely lacking. Moreover, Bulgaria is one of the few countries in the EU that does not fully compensate for the consumable sensors for them. The sensors are the most advanced method for controlling diabetes in both children, elderly patients with severe disabilities, as well as in all other patients, as indicated by the patient organizations.
"Treatment of patients with diabetic polyinopathy is often delayed when the lesions occur in stages 3-5 of the disease, and there are at least 15,000 Bulgarian diabetics diagnosed with this complication, but it is believed that the number of patients with foot injuries Diabetes is about 5 percent of all diabetics, that is, about 26,000 people get ulcers,, Vigilant and vigilant organizations.
About 140 people every year suffer from amputation due to diabetic foot. Patients in the first and second stage of diabetic polyneuropathy show drugs, but many diabetics do not buy them because they can not afford it. In 3-5 stages, diabetics suffer from sores and ulcers that are difficult and expensive to treat, causing immense pain, mobility difficulties, workfulness, amputations.
Because of the loss of sensitivity in patients with diabetic polyneuropathy, leg injuries may remain untreated and lead to ulcers, severe infection and later amputation. For more timely diagnosis and treatment of diabetic polyneuropathy, including those with symptomatic loss and numbness, more screening and diagnostic tests are needed in clinics, "the report said.
Organizations insist that the treatment of all diabetics is monitored by an endocrinologist, whether or not there are directions for it.
"At present, only diabetic patients with severe complications are divided by endocrinologists, others are seen by the GP We see a much more successful model to be endocrinologists, it would be beneficial for both patients and reduce treatment costs", The organizations said.
Is this article useful to you?
We will be happy if you support Mediapool.bg, so you can continue to rely on independent, professional and fair information and analytical media.
Support us
Subscribe to the most important news, analyzes, and comments on today's events. This newsletter is sent to your email address every day at 18:00.
subscription