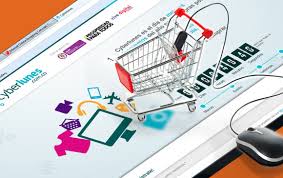 Suggestions Online Will run at midnight on Monday, November 19 to Tuesday 20, because 109 virtual stores identified with the Colombian Chamber of Commerce (CCCE) will be measured in a new cyberlunes cybercrime struggle.
The expectation is to call 1.8 million Colombians, according to Felipe and Villarreal, CyberClunes Manager of CCCE.
This will increase by 40% compared to the number of people who visited the portal during November 2017, a total of 1.3. In sales, CCCE estimates they reach 580 billion pesos, an increase of 38.75 percent from 418 billion pesos last year.
As for the products and services expected to be more in demand this year Villarreal believes that travel as well as technological items (tablets, cell phones, among others), sports, apparel and footwear will be the most requested in the thirteenth version of Cyberlunes. "This is a good opportunity to promote Christmas shopping," he said.
Indeed, but this date also implies personal financial risks if money is not managed in a careful manner (see Keys).
this is the reason Raul Cardona, Head of the undergraduate program in finance and professor of research at Eafit University, stressed the importance of the acquisition in accordance with what is required. "Look at the Cyberlunes page for the products and discounts they offer to plan your purchase," he advised.
Fever at the end of the year usually means spending money to buy presents or holiday plans. According to data released by the site Loencontraste.com on Black Friday last year (another one of the most important events online discount) 34% of purchases were fashion, 21% in technology and 42% in toys, beauty and home.
In this sense, there are a number of recommendations for keeping the budget at the end of the year: it is essential to measure spending, as some people often forget that when Christmas ends, they have to face tuition at school or university and buy uniforms. And materials, among other expenses.
While there are less than two months to the end of the year, CCCE and eCommerce Observatory estimate that by the end of 2018 commercial transactions Online Will reach 100 million (see chart). That would represent a 17% increase over last year's figures.
If the budget for these two entities will be the best year for the sector since 2014. Four years ago digital transactions were only 16.6 million dollars (represented 15.4 billion pesos). By 2015, the number increased by 195%, reaching 48 million. In the past year there were 87.8 million transactions, which passed 51.2 billion pesos.