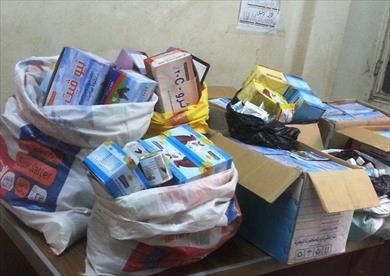 Fatima Ali


Posted in:
Thursday 22 November 2018 – 12:11 PM
| Last Updated:
Thursday 22 November 2018 – 12:11 PM

The Director of Veterinary Medicine in Sharkia, under the supervision of Dr. Ashraf Tawfiq, Undersecretary of the Veterinary Health Ministry, along with the Police and Water Corps, has carried out a large inspection campaign in the clinics and centers for the sale and traffic of veterinarians and vaccines in the center and city of Awlad Saqr.
A statement issued by the Director of Veterinary Medicine on Thursday said the campaign has resulted in the release of 3 records on the sale and trafficking of veterinarians and vaccines. 3275 bottles were captured for 49 expiratory and unknown veterinarians. The necessary records were released and the infrared drugs were captured.