Dominic Bloodworth is still uncomfortable on the World Cup ticket despite the excellent position to start the women's orange against Switzerland. The defender fears Ramona Bachman, which is available again in exchange on Tuesday.
Hechalutz, 27, was forced to pass Friday at Galgenwaard by suspension. In part due to lack of Bachmann, the Dutch team was too strong for the Swiss helpless (3-0).
"We have to make sure she does not get into a good game," Baldworth says of her marriage, known as Dominique Jensen, about the Swiss star player. "When Bachmann starts dripping, she's almost unstoppable."
Bloodworth, Vivianne Miedema and Daniel van de Dunk met Bachmann this season in the Women's Premier League, the highest level in England. Dark Dutch Arsenal won in October with no less than 0-5 from Bachmann and Chelsea.
"Bachman is very mobile," says Bloodworth. "She also popped up on the sides or behind the striker is very eager, fast and technically strong for us it was a bargain she could not attend during the first race."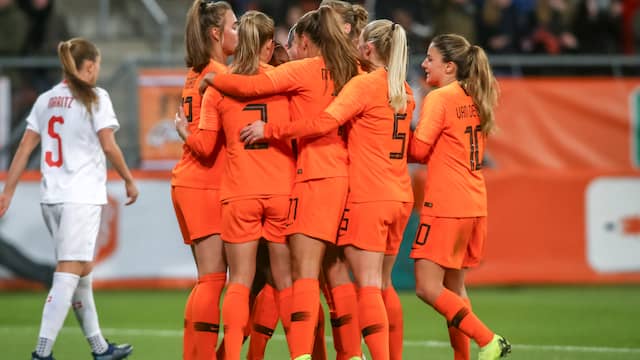 "We must sit briefly with her"
Bachman scored 45 goals in 95 international games. In the Swedish competition, Switzerland scored so easily for FC Rosengard between 2012 and 2015 that it was named Lionel Messi.
Bloodworth knows exactly how Bachmann can be harmful. "We have to sit with her for a short time, she can not get time and space, otherwise she's gone."
If the Orange women strengthen in Schwerhausen on Tuesday, the national team of coaches, Serena Wigman, will be eligible for next year's World Cup in France. For Bloodworth it will be her second World Cup after she finished the eighth finals in Canada with Orange in 2015.
"It was a great world championship, but if you play a little, it feels different," says Bloodworth. "I dream of playing every game next year, the World Cup very close, but I do not want to talk about it until we have the card in our pocket."
The return to the decisive decision between Holland and Switzerland is on Tuesday at 19.00 in the Lipo Park in Schaffhausen.
Source link