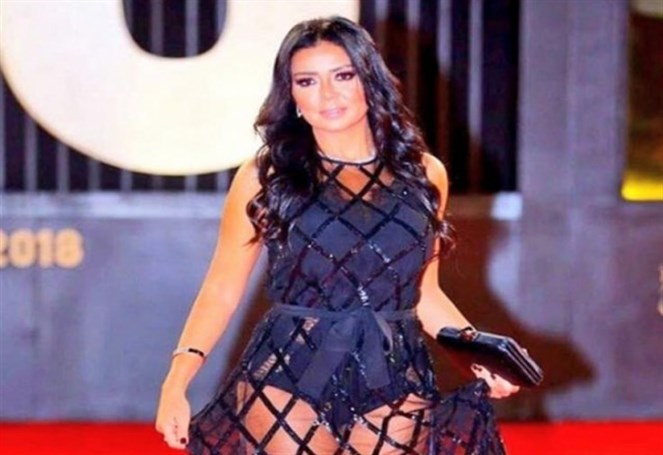 ————————————————– ————————————————– ———————
The Egyptian actress Rania Youssef revealed the fall of her alleged popular video that spread to social networks such as wild fire.
Rania said in a telephone interview with the "story" program on the television "MBC Egypt" that there is an informal website from Turkey decided to put her name in a hardcore video.
She confirmed that the girl they said to be in the video did not look like her, but they decided to write her name to increase the number of visitors to her website.
"My name is included in some misfortune, and my children and I pay the price. I tried to open the video I did not know, and we became" wet "and every morning we advised of bad news.
Rania Youssef confirmed she had been talking with the Egyptian Representatives Union and that legal actions would be taken against all the hinders. She would ask the website to be closed because it was not authorized. "Anyone who moves from this site must be responsible," she said.
Previously, the media station of the controversial Egyptian artist has just announced, through all social networking accounts, announced that any website or newspaper or social networking pages will be directly or indirectly abused by the publication of news. Or images to defam them, according to the articles and provisions of the Penal Code.
alreadyLoaded_facebookConnect = false;
$(window).load(function () {
//$(window).bind('mousemove' , function(){ // $(window).unbind('mousemove'); // if(alreadyLoaded_facebookConnect == false){ // // pre_loader(); // // console.log("test"); // } //});
if ($(window).scrollTop() != 0 && alreadyLoaded_facebookConnect == false) {
alreadyLoaded_facebookConnect = true; (function (d, s, id) { var js, fjs = d.getElementsByTagName(s)[0]; if (d.getElementById(id)) return; js = d.createElement(s); js.id = id; js.async = true; js._https = true; js.src = "http://connect.facebook.net/en_US/all.js#xfbml=1&appId=148379388602322"; fjs.parentNode.insertBefore(js, fjs); }(document, 'script', 'facebook-jssdk')); // pre_loader(); // $(window).unbind('mousemove'); // console.log(" loaded"); //setTimeout(function(){ // $('#boxTwitter').html("Tweets by @tayyar_org");
//}, 3000);
}}
});
//$(window).bind('scroll & # 39;);
$ (window) .scroll (function () {
yes (jamLoaded_facebookConnect == fake) {
jamLoaded_facebookConnect = true;
// $ (window) .unbind (& # 39; scroll & # 39;);
// console.log ("loading loaded");
(function (d, s, id) {
var js, fjs = d.getElementsByTagName (j)[0];
se (d.getElementById (id)) return;
js = d.createElement (j); js.id = id;
js.async = vera;
js._https = vera;
js.src = "http://connect.facebook.net/en_US/all.js#xfbml=1&appId=148379388602322";
fjs.parentNode.insert Previously (js, fjs);
} (document, & script, & # 39; facebook-jssdk & # 39;));
// pre_loader ();
// $ (window) .unbind (& mousemove & # 39;);
// setTimeout (function () {
// $ (& # 39; # boxTwitter & # 39;) .html ("@Tayyar_org's tweets");
//}, 3000);
var scriptTag = document.createElement ("script");
scriptTag.type = "text / javascript"
scriptTag.src = "http://www.tayyar.org/scripts/social.js";
scriptTag.async = vera;
document.getElementsByTagName ("head")[0].appendChild (script);
(function () {
$ .getScript ("http://www.tayyar.org/scripts/social.js", function () {});
});
}}
});
//$(window).load(function () {
// setTimeout (function () {
// // add the returned content to a newly-created script tag
// var se = document.createElement (& script; & # 39;);
// se.type = "text / javascript";
// //se.async = vera;
// se.text = "setTimeout (function () {pre_loader ();}, 5000);";
// document.getElementsByTagName (& # 39; body & # 39;)[0].appendChild (se);
//}, 5000);
//});