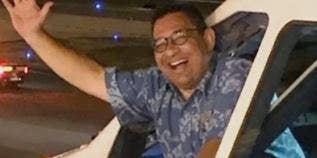 Hawaiian Airlines identified the assistant who died from a coat of arms during a flight on Thursday as a long-term employee.
Emile Griffith, who worked for Hawaiian Airlines for over 31 years, died during the flight, the company said in a statement.
"We are deeply disturbed by the loss of Emile Griffith, a member of our airline president & Ohana for over 31 years, who have passed away during our flight between Honolulu and New York last night," the airlines said in a statement. "We are always thankful for Emile's colleagues and good fellow citizens on board, who have remained on their side and provided a lot of medical help."
HAWAIIAN AIRLINES FLUMAJ DIVERTITA After FALAJ ATTENDANTOJ DIES
Hawaiian Airlines Flight 50 traveled from Honolulu to New York City when it was removed to San Francisco on Thursday after a flight crew had suffered a "suspected body attack," said Doug Yakel, a Portuguese airport in San Francisco.
Doctor hired CPR during the flight but rejected these efforts before landing, Yakel said. Sources told Hawai News Now that members of the crew performed CPR for hours. Yakel said the passengers were placed on other flights. The flight carried 253 passengers and 12 crew members.
HONOLULO RESKUIT PILOT, HOSPITALIZATION After the AIDS PLAN MURITARA EXERCISE
"Emile loves and treasure her work in Hawaii and has always shared it with our guests. Our hearts are with the family of Emile, friends and those happy to know him," the statement ended.
Click here for the FOX NEWS APP
The Associated Press contributed to this report.
Source link